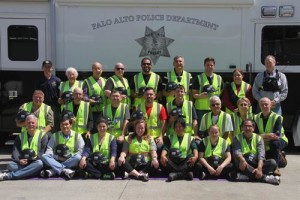 As of June 2017, we are lacking Block Preparedness Coordinators (BPCs) for the following streets:
Pepper
Olive
Lambert
Wilton
Curtner
Second
Wilkie
El Camino Wy
To learn more about what a BPC does for our neighborhood, contact kmjoye at gmail dot com.  Thank you to all of the active BPCs (listed below).
To learn more about Palo Alto Emergency Plan – read on!
Palo Alto's City Emergency Operations Command (EOC) relies heavily on  Emergency Services Volunteers (ESVs):  Neighborhood Preparedness Coordinator (NPC), Block Preparedness Coordinators (BPC), Community Emergency Response Team (CERT) members and Radio Operators who have been trained or would be willing to be trained in Amateur Radio Emergency Services (ARES) and Radio Amateur Civil Emergency Services (RACES).
Believe me, the City did not make up all these acronyms.  They have come all the way down to us from the Federal government!
To keep Ventura prepared and resilient, we need:
BLOCK PREPAREDNESS COORDINATORS  for every block — A BPC knows who lives on his/her street and can, in the event of an emergency, go door to door to see who might need help.   And it's good to have an alternate.  Ideally 2 BPCs per block would be great!  For more information, contact Ken or Andreas to sign up to help.  Or reserve a spot for the next training by contacting:  epvolunteers@paneighborhoods.org 

Upcoming BPC Certification Training –
8 August 2017, 6:00pm

NEIGHBORHOOD PREPAREDNESS COORDINATORS – NPCs work with BPCs and CERTs to identify areas of greatest and immediate need and to radio for help.  Ken Joye is the current NPC; if you want to backstop Ken, contact him.
RADIO OPERATORS – Do you currently possess this skill?  Would you like to?   We need trained volunteers to provide additional critical radio links to the City Emergency Operations Command (EOC).
MORE CERTS! – Trained in basic disaster response skills, light search & rescue and disaster medical operations, CERTS serve on the frontline in case of disaster.  The more we have, the better.  Reserve a spot for the next training by contacting:  paloaltocert@cityofpaloalto.org

Upcoming CERT Training – 
beginning 12 September 2017

Training through the City is FREE.
Visit the City's Website  for more information about keeping your family safe.  The site is a wealth of information from how to prepare yourself and your home as well as more details about the many volunteer opportunities.
Additionally consider checking out the Palo Alto Neighborhoods (PAN) website as a resource as well.  It shows links to all our sister neighborhoods as well as a calendar of events.
Consider signing up for emergency notifications from the  Santa Clara County Alert System (AlertSCC)    You will be automatically notified of police actions or emergency notifications from the city or county.
And remember, the recommended number of days for which you should have supplies is 10.  The minimum is 3.  Make sure you have food, emergency shelter and water for at least 3 days.
Chestnut-1      Patrick McEvoy
Margarita-1     Becky Sanders
Matadero-1      Susan Kemp
Matadero-2      Frank Flynn
Matadero-3      Angela Dellaporta
Ventura-1       Jamila Rufaro
Ventura-2       Anne Woodbury
Ventura-3       Kevin Zeng
Ventura-4       Elizabeth Esbenshade
Maclane-1       John Douglas
Park-2  Marjan Wilkes
Meadow-1        Joanne Murphy
For the CERT's, the call signs are:
CERT-1  Trevor Davis
CERT-2  Andreas Ramos
CERT-3  Adrienne Emory
CERT-6  Lindsay Joye
RESOURCES: