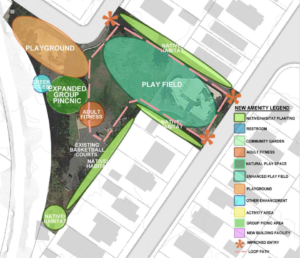 Drawn up July 2016, based on discussion at Parks Meeting July 23
Attention:
Peter Jensen, Landscape Architect and Project Manager for the City of Palo Alto, 650-617-3183 peter.jensen@cityofpaloalto.org
City Council – city.council@cityofpaloalto.org
Parks & Recreation Commission – ParkRec.Commission@cityofpaloalto.org
The Ventura Parks Committee, affiliated with the Ventura Neighborhood Association, is encouraged that the City of Palo Alto is planning upgrades and enhancements to Boulware Park and Ventura Community Center Park as part of its Draft Park and Facilities New Amenities Concept Plans Review Document.  Neighborhood engagement is key to the success of this endeavor.  We look forward to working with you and engaging in ongoing communications in a productive way as a voice and information source for our community.  For now, we make the following comments regarding the Concept Plans:
Boulware Park
We agree with the Concept Plan's note that Boulware Park "serves a large neighborhood with limited park land."  We also note that Boulware Park ranks near the bottom of the City's Overall Park Quality ratings.  For these and other reasons, the City should prioritize the renovation of this park, and we look forward to working with you to make that happen.
A primary objective for any changes to Boulware Park should be to make it more inviting, attractive, safe, and family-friendly.  Too often in its current state the park is used by people for illicit activity such as dealing and smoking pot and other drugs, ad hoc living and eating space for vehicle dwellers and other transients, excessive drinking of alcohol and rowdiness, and a general loitering area for people who live elsewhere and disrupt our park's peaceful vibe.  In particular, the triangular corner of the park southwest of the basketball courts should be redesigned to make it less convenient and secretive for people looking to behave badly out of plain sight from the street.  Removing the picnic area in that corner would be one step forward.  Other options include moving the basketball court further back, inserting some other activity area such as bocce ball or horseshoes, or designing the native habitat landscaping to make the corner less inviting to undesirable activities.  We look forward to working with you to make appropriate design changes that would help foster the type of environment that would encourage more residents to use the park more regularly.
We support the concept of combining the two playgrounds into one so long as doing so will not materially reduce the overall size of the separate play spaces for younger and older children.  A play area of sufficient size to serve our large neighborhood, better shade in the play space, and updated play equipment are critical components that are needed in order to attract families, improve the park, and serve the needs of the neighborhood.  Please consider whether the best way to meet these goals would be to locate the combined playground near Fernando Avenue where most of the neighborhood enters Boulware Park, it does not interfere with future plans for creek access, and it is less isolated than the Chestnut/Ash corner of the park—a corner that today can feel less safe than the Fernando side depending on what vehicles are parked and what activity is transpiring there.
We understand that it is your intent to preserve the existing redwood trees in the park.  We fully support this idea.
We also fully support keeping the loop path.  Please consider ensuring that there is an adequate buffer between the path and Fernando Avenue, finding ways to soften turns in the path that are shown as right angles in the current document, and finding ways to make the loop bigger (or at least not smaller) than it is today.
We support a refreshed grass turf play field.  Even if it is not sized for organized youth games, we believe it can be sized to continue to support activities such as youth soccer practices and pick-up games of soccer, frisbee, and football as it has done in the past.  These uses help draw attendance to the park, encourage positive park use, and discourage the negative behaviors which are too often part of the scene in Boulware Park today.
We would like to explore the issue of whether a bathroom might be appropriate for this site.  On the one hand, some members of the Ventura Parks Committee feel that a family bathroom would be appreciated and used by park users.  On the other hand, some members are concerns that a bathroom could encourage more use by non-resident transients and other undesirable behavior.  One idea could be to locate any bathroom in an area easily viewed from the street and to lock it at night.  We look forward to exploring this issue with you further.
We do not understand what the "Adult Fitness" idea is in the Concept Plan, and we do not support a separate area for adult fitness.  The loop path serves as an adult fitness vehicle today, and we believe that its preservation and enhancement would serve the goal of adult fitness adequately in the future.
While potentially longer term, we very much support the idea of expanding the park into the "vacant lot" noted on the plan document at the corner of Ash and Chestnut.  This land we understand is owned by AT&T at a time when telecoms are looking to downsize and sell outdated facilities and equipment.  Expanding the park would help address the current lack of size of Boulware Park relative to the large neighborhood it serves, and it would fulfill the City's stated objective to add parkland on a corner lot.  We would like to work with you, the City's real estate office, and any other relevant City agency to help make this opportunity a reality.  Doing so should in no way hold up the plans to renovate Boulware Park, but it is something that needs to be pursued to fulfill the promise of Palo Alto's park system in the Ventura Neighborhood.
We also support naturalization of Matadero Creek and a long term plan to provide creek access.  In addition, we note that the "Native Habitat" areas marked on the concept plan should be extended to the areas bordering the creek, even apart from the plan to provide access.  We look forward to working with you on the details of implementing these enhancements.
Ventura Community Center Park 
We support the idea for a loop path at Ventura Community Center Park.  We would also like to see more shade trees or other shade structures added to the park.  Currently too much of the park gets uncomfortably hot during most days.