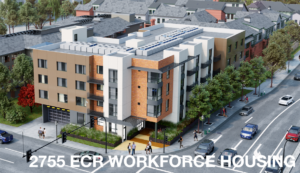 January 2018 – The Planning & Transportation Commission will review the next proposal from the developer on January 31, 6pm.
Our primary objection to the development continues to be that it hands a giveaway to the developer by upzoning the property away from a public facility which by definition serves the public (it's a commuter parking lot now) and let's them upzone to building housing.  The developers are offering to build 20% affordable units, so called "work force" housing.  Well what about making 100% affordable?  Public money into private hands.  This is what it appears to be.
OLDER INFORMATION BELOW –
Becky Sanders speaks to the PTC in June 2017 regarding 2755 ECR
(June 2017)
Oh wow, 2755 El Camino Real is back.    (See "History" below). You will recall that this project keeps getting resubmitted with new lipstick, but the tiresome results are the same.  This time the new lipstick is to call this Workforce Housing.  The Project aspires to be smaller units that will cater to the singles in the workforce, discourage driving, encouraging biking.   It will have no impact on the school and help ease the housing crisis brought on by too much investment in building office space and not enough in housing,
The Project goes before the Planning and Transportation Commission on June 14, 2017 at 6 pm.   These are the salient points, why VNA is against this project – they are essentially the same as before:
This site is not EVEN zoned for housing.  It is zoned PUBLIC FACILITY.  The buyer bought it on spec hoping to count on the City of Palo Alto to grant it a windfall by upzoning/spot zoning this site. Upzoning undermines the political process.  When a developer can buy a property for one use and then it upzoned it, it's like handing the developer millions of dollars.
The site is less than 1/2 an acre, so putting 60 units on such a site is 134 per acre. 40 units per acre is our maximum elsewhere.  So this would be more than triple the current maximum number of units allowed by law.
This would be a great PARK, which is public facility.  There are sports fields across the street, but that is not a park.
If we are going to upzone/spot zone it, then why not get something out of it:  Low cost housing?  Senior Housing?  Housing for the most vulnerable.  There is no subsidized housing in the current.  These are all apartments to be rented at market rate.  Truly a gift to the developer if this goes through.
From an aesthetic consideration, the design maxes out profitable space and minimizes amenities and common areas and offers very little green space, just an increase in the concrete jungle that is becoming ECR.
Finally aspirational design – you can't legislate who you can rent to, so there is no guarantee that these will be workers who will have no children who will not impact the schools, who will bike to work and who will not use their cars.  This is aspirational design, wishful thinking, a new shade of lipstick.
OLDER INFORMATION HERE —
You will recall last year we were able to squash a City Council thumbs up on the upzoning of 2755 El Camino.  Now 2755 ECR is back again.  Take a look at this new plan!   The developers will be  prescreening this proposal this MONDAY, SEPTEMBER 12.  If you think this project is a bad idea we encourage you to come to the meeting and share you views.   This isn't even an approval process, but the developers are looking for a nod from Council that they can go ahead with the proposal.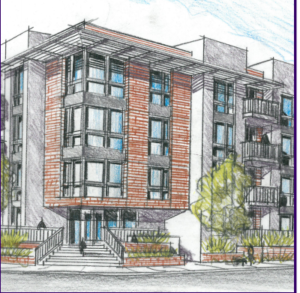 Again, we need to move boldly to let Council know this is not an acceptable project for all the usual reasons. Here is a link to the project plans.   Keep in mind that the proposed project will cover less than half an acre of land at a parking lot at the corner of El Camino and Page Mill, the busiest intersection in town.  Here are the problems with this proposals:
The project calls for "Another Zoning District" because there is no existing zoning designation that allows such density.
Any way you look at this, this proposal requires upzoning.  Upzoning means neighbors no longer can know what will be next to them.  That's unfair.
RM-40 has a maximum of 1.0 FAR.  This project is asking for double that.  (FAR stands for Floor Area Ratio which is the ratio of a building's total floor area (gross floor area) to the size of the piece of land upon which it is built. The terms can also refer to limits imposed on such a ratio.   RM-40 is 1:1
RM-40 projects are supposed to have 100 square feet of open space per unit (half of which can be common area).  Where will that be?  On the roof?
The building is under-parked.  If the higher number of 102 is what the project would normally require, the proposal would effectively put 102 – 45 = 57 cars into an already crowded neighborhood.  That seems unacceptable.
The staff report mentions parking reductions might possible via TDMs.  (TDMs refers to Transportation Demand Management which means govt intervenes to make it easier for folks to use alternative methods of transit, in order to reduce car trips.)  Well, no TDM has ever independently been shown to work in Palo Alto   Plus, TDMs are about using shuttles and GoPasses to get people not to commute.  Even if that works, then all the 102 cars associated with the project would stay there during the day, occupying 57 parking spaces in the neighborhood 24/7.  Why would that merit a parking space reduction?  It would be a disaster.  Hillary has acknowledged that more housing creates more traffic.  Why would we want more traffic at such a busy intersection?
No one talks about this, but putting housing at one of the busiest intersections in the city seems problematic from a health perspective.  There are medical studies on this.  For example http://ehp.niehs.nih.gov/1408133/ reported higher rates of autism in the children of women who lived near high traffic areas.  Cars idle at that intersection too so it's not just moving cars that create a problem.  Something to consider.
Will the owners be able to apply for the state density bonuses on top of all this?  So if the city rezones the property, will the owner end up with even higher density?  "California Government Code Sections 65915
– 65918) provides developers with powerful tools to encourage the development of affordable and senior housing, including up to a 35% increase in project densities, depending on the amount of affordable housing provided. (kmgt.com)"  (For more on density bonuses visit here.)
Allow this project and watch Palo Alto Square apply for similar zoning.  We'll end up with something like San Antonio Center there.  This is the slippery slope.
Do we really want El Camino to become a canyon?  This is another sky-blocking godzilla.  Its massing and scale will contribute to the canyonization of El Camino.
There are legitimate uses for the property under its current zoning.  Let's leave the zoning alone and let the owners figure out how to best use it.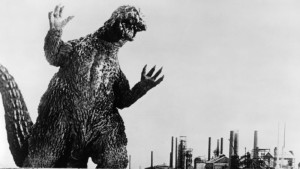 History
On Tuesday September 15,  2015, Becky Sanders spoke along with several community members against the "upzoning" of 2755 El Camino.    As it was just an exploratory item, City Council did not have to do a thumbs down or thumbs up on the project.  However, they did not recommend to the City Manager that his office go forward with exploring this possibility further, a clear signal that the proposed project would receive a negative response.  So this is good news.  Here's my presentation below.   It's not hard to speak before council about something you care about and a good thing to do!
Developers want City Council to UPZONE the old VTA lot at the corner of Page Mill and El Camino (next to Sunrise) in order to build a:
FOUR STORY COMPLEX with 3 Levels of Underground Parking
Is this yet one more example of business interests trumping residential quality of life by getting a zoning exemption?
Do we really want more traffic, safety problems, pollution, developer giveaways, and monster buildings that are given code exceptions in our community?
Say yes to preserving Palo Alto neighborhoods – if we flood the City Council with emails – we will send them a clear signal we are not okay with rampant and runaway development that gets zoning exemptions – EMAIL city.council@cityofpaloalto.org
See the agenda for, and "vote" with your email – or if you can COME TO COUNCIL on Tuesday 9/15 – 7:55 pm is when this item is scheduled. Sample Email Below:
Dear City Council Members:
I urge you to say no to upzoning the old VTA parking lot property. We do not need more traffic, safety problems, pollution, developer giveaways, and monster buildings that are given code exceptions in our neighborhood. With all the development under construction and in the pipeline for the California Avenue area and abutting neighborhoods, the collective impact has yet to be measured. Please do not allow business interests to override our residential quality of life. Thank you.
[YOUR NAME AND ADDRESS]