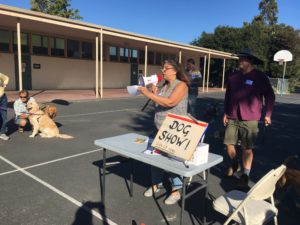 VNA meeting minutes – October 1, 2017
Attending:
David Jeong
Rangu
Pearlin
Gary
Susan
Neera
Angela
Becky
Many thanks to all who participated and supported the Ice Cream Social – Pearlin, Susan and Gary, the Butterfly Lady (Eleanor Laney).
Items for Discussion Today
Ice cream Social
Emergency preparedness
Rail Corridor
Frys Site and Palo Alto Forward
Things we'd like in neighborhood
Density
Antonio's Nut House
David told us the history of the Ventura Neighborhood Association from long ago. It began with a need for diverters on Park, for which the neighborhood had to fight hard against multiple parties. That's when the VNA was formed, though they met with a great deal of apathy. 3% participation is supposed to be a good number. Struggled also to get rid of massage parlors. Community wanted Fry's site to be zoned R-1 but it was handed over to Fry's under Simitian.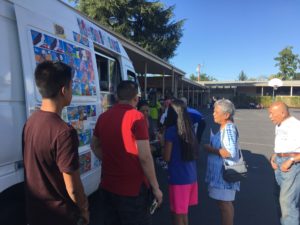 Ice Cream Social: Dog show – worked well, could get more kids involved, dressing up, etc. Numbers slightly up, wide representation from most of neighborhood. More people from Pepper this year. Thanks to John for doing the flyer.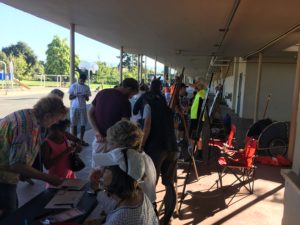 Fry's Site – We are all pleased that funding for an official working group for the NVCAP, which will include neighborhood representatives, has been obtained by the city. Using the survey at the Ice Cream Social, as well as several meetings, we have distilled a draft of our neighborhood wishes (Demands? Suggestions?) for the design and future use of the site. See document "Fry's Site Development Suggestions, September 2017". How many units will be built? It is a 12.5 acre site and is zoned R-30: [Palo Alto Municipal Code 18.13 (Thanks for finding this, Becky) The RM-30 medium density multiple-family residence district is intended to create, preserve and enhance neighborhoods for multiple-family housing with site development standards and visual characteristics intended to mitigate impacts on nearby lower density residential districts. Projects at this density are intended for larger parcels that will enable developments to provide their own parking spaces and to meet their open space needs in the form of garden apartments or cluster developments. Permitted densities in the RM-30 residence district range from sixteen to thirty dwelling units per acre, with no required minimum density.] Are we willing to have higher rooftops in order to increase green space? Most people who answered that question in the survey said they are more concerned about green space than about roof height. Angela will put draft onto NextDoor and solicit more opinions. She will contact Candace Gonzalez at Palo Alto Housing to come and talk with us about parking. We may hold future meetings to gather more opinions and ideas.
Antonio's Nut House – The man who had the outdoor alcohol serving permit died recently, so that permit has been withdrawn. Susan wrote to the city council and received an answer from Adrian Fine, who was also dismayed – he wants to speed up the process for getting a new permit issued. We should all write to city council to encourage them to give them their outdoor alcohol permit. We all agreed this is a good idea.
Railroad Corridor Meeting – Gary went to the recent meeting and reported back to us. People generally like the idea of the trench – but the difficulty is that it would have to go under the 3 creeks. People think that elevated rails are ugly – they don't realize that the elevated tracks can be made of concrete and look very modern and clean . Going under the creeks is very expensive and involves lots of pumping of water. It also puts the stations underground. One alternative would be to put a subway system under El Camino. Menlo Park would also have to go underground bc of the depth of the underground tunnel required by the creeks. Putting just the roads that cross the railroad under the railroad would require buying up properties next to roads that go under. Becky: Was the city pushing the trench solution? Gary: Not really. Becky: Is our community talking about it mostly because of suicides? Not sure. The city got a lowball estimate for trench. In addition, freight trains are diesel, so they are not able to go into trench. In some areas they allow freight trains by using open trenches that are protected by concrete fences -What would such a thing look like? Another problem: high speed rail cannot use freight rails. Next Railroad Corridor meeting will be held October 21, free lunch, you can just show up without signing up.
Neighborhood Preparedness: New BPC on Fernando is Magdalena Cabrera. Oct 15 is next emergency radio communication practice. Rescue team leader Mr. Ramos notes that inadequate stored water and food was catastrophic for residents of Puerto Rico. We should all be prepared with 7 days worth of food and water. Neera noted that some emergency preparedness leaders in the neighborhood had met to discuss what first aid supplies should be on hand – things that the average family will not be storing. If necessary, we can ask for donations from neighbors to pay for these supplies.
Didn't have time to go over some of the feedback from the neighbors at the ice cream social – as to what they'd like to see in the neighborhood. Becky will put that info up on the website.
Creepy shop Note from Becky: New company in the physical therapy building is now an "incubator".
Secret Coupa Cafe warehouse is still on Becky's radar. Code enforcement is an area she is working on.
Submitted by Angela Dellaporta
Meeting Minutes – October 1, 2017