Thank you to the Nest for hosting us. They provided a lovely space for us to meet. They offered free wifi, coffee and water. Plus they have a large wine selection, which honestly, we didn't indulge in!  We are very grateful to them for sharing the space, as the MP room at the Community Center was not available this month, due to the election.
Who attended and their concerns:
Bill M. – has lived here a long time, and he feels that Ventura has long been an orphan of Palo Alto, not getting the attention that other neighborhoods get
Becky S. – impacts of what she perceived as runaway development on neighborhood quality of life in general throughout the city but of course particularly in Ventura
Pearlin Y.- social chair – wants neighbors to know each other
Susan K. – Emergency prep, Park and Page Boulevard proposed Roundabout at the intersection…
Ken J. – Emergency Prep and Bicycle Routes plus the coming Fry's development – need to be proactive. proactive.  Also Ken mentioned concerns about Rinconada being managed by private contractor —a la Burgess pool in Menlo Park – see more below in discussion
Jason and Jaemin- husband and wife – over development – they worked really hard with their immediate neighbors on Pepper Avenue in 2012 to mitigate the impacts of the proposed development on 441 Page Mill – which ended up getting 3 Variances – see more below in discussion.
Karolyn B. – traffic and airplane noise
Additional Report in on the Ice Cream Social –
Ken has some data that he collected and he will aggregate that and send it to us. Because we didn't have Kirsten and Frank to aggressively drive people to participating in our "live survey" of what folks care about, we will want to make sure we have several people to work that next year. At least two or more people to man the station. Pearlin agreed – if only one person is manning a station only one person can be engaged at a time…
Neighborhood, Traffic Safety and Bike Boulevard Projects Meeting
Ken brought a flyer for a meeting to discuss the proposed "Final Design" of the various bike travel pathway designs… (see flyer).
Tuesday, November 29, 6:30-8:30 pm, Mitchell Park Community Center, Adobe Room
Park Boulevard plays a significant part in this concept, including a proposed roundabout at Park and Page Mill. Mixed feelings about that in the association, so educate yourself on roundabouts if that is of interest and definitely come to the meeting if you want to play a part in the shaping of Park Boulevard and other biking routes!
AT&T Lot Update – Part 1
Becky reported that both she and Jonathan Brown, who is the chair of the VNA Parks Committee, spoke before Parks and Rec last month on October 26 to ask the commission to investigate adding the AT&T lot at Fernando and Birch to Palo Alto's parkland. AT&T has indicated it will be divesting itself of this unneeded property. Jonathan Brown of VNA has spearheaded the effort to bring this to the fore, by writing to Parks and Rec staff and reaching out to open space thought leaders in the city and in the county. We felt that the Parks and Rec folks were VERY FAVORABLY INCLINED to move forward.
Here is a link to the video of Jonathan being a total boss at the meeting. (That is Becky's editorial comment at the meeting ) – https://youtu.be/nrLN-59hszI?t=41m46s Becky said she spoke after Jonathan and was less boss, but still thinks it helps to have people come to the meetings and send emails.
Remember, the Commissioners and City Council in general do not hear much from their constituents so when constituents do come out in force, that sends a clear message about what constituents care about.
What all of Jonathan's efforts have led to is a second meeting this WEDNESDAY NIGHT where the Commission will vote to go ahead and ask City Council to proceed with negotiations. This is a very important next step toward our goal. So here's the skinny:
AT&T Lot Update – Part 2 –
Parks and Rec Meeting Wednesday Night, November 16, 7 pm
Please come and add your voice to this movement. Jonathan Brown has done a fabulous job of networking and organizing local support beyond Ventura for the purchase of this property, which AT&T is ready to sell and which is already designated as PF, Public facility.
Here is a link to the agenda
http://www.cityofpaloalto.org/civicax/filebank/documents/54721
If you would like to email the City Council to add your voice to this park expansion, you may do by emailing:  parkrec.commission@cityofpaloalto.org
ON A RELATED TOPIC – Rinconada Pool – privitization of management?
A 2nd topic that bears attending to is the privatization of Rinconada pool management.  Ken Joye raised this issue. The City will still own it but they will farm out the management to a private company. There is mixed feelings about this across the city, and most folks are not aware it's in the offing. One might look at Menlo Parks' experience privatizing management of Burgess Pool. A mixed review. Something to be aware of if you or your loved one are avid swimmers.   This topic will also be addressed at Wednesday, November 16 meeting of Parks and Rec.
Development, Its Impacts and the Election – General Discussion notes
According to Jaemin and Jason, in 2012, (3 years before the Neighborhood Association was founded,) they and their neighbors in North Ventura attended City Council, Architectural Review Commission meetings and Planning and Transportation commission meetings whenever the proposed development at 441 Page Mill was discussed. They worked hard to understand the development and its impacts. They also opposed the proposed variances, exemptions, exceptions, upzoning and what they saw as developer giveaways that the developer was asking for without offering any palpable public benefits in exchange. However, the neighborhood group felt they were getting through to council, that they were being heard and that they would be able to keep the development to a size that they could accept.
Then Jaemin and Jason went on to share their experience about  the night of the final vote.  The meeting ran long as they often do and the architect asked for an additional story to be added in exchange for the inclusions of below market rate units. The neighbors said it was after 11 pm or later and everyone was exhausted, and that rather than delay anymore, the council approved it.  The neighbors were stunned.   They felt that the council just caved in. So at the 11th hour the developer asked for more and got it, while the residents watched helplessly and felt completely sold out. And even now the developer is asking the neighbors for an easement on their property which backs up against the development, to install holddowns for the construction. To a neighbor they have said "no." And now they are confronted with development at 3001 El Camino which will demolish Mike's Bikes and build a massive development which will essentially hem Pepper in on both sides. Their frustration and stress was very evident. And we sympathized with them.
Their experience is not unique as we see the impacts of development along El Camino and the Cal Ave business district affecting our neighborhood quality of life
But the Association does want to be a place where all voices are heard, and there are folks who believe that we need to come to terms with the fact that denser housing is coming and that many folks, indeed some of our members, believe that it is not necessarily a bad thing, perhaps a good thing.  This coming election's candidates are drawn very much along that single issue line.
Ken registered his disagreement when Becky referred to "Build Baby Build" as the mantra of the pro-growth slate and as what is coming up El Camino Real in Ventura.  Ken believes high density housing near transit centers is desirable, that we need to find a way to work with the City to build a Ventura we like. This is something we have talked about in the past meetings. If we hear of a new project in the pipeline, then we need to reach out to the developers and be part of the conversation and be less reactionary.  If we can run out front of the next big development, then maybe we can have influence.
This is what Jaemin and Jason and their neighbors thought they were doing by using the tools of democracy to affect city policy.  They reached out and got involved in the process. So what recourse do citizens have when their best efforts are rebuffed and betrayed?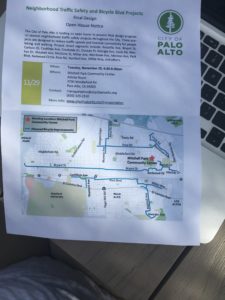 So the meeting ended with a lively discussion along these lines.    Regardless of which spot on the "continuum" we're on with regards to growth, it looks like we need to form a development subcommittee to tackle this issue of how to become part of the solution as the future, in whatever form it takes, barrels our way.  And a good start we all agreed was to invite city council members to our meetings, so that is just what we will do.  Becky will look into that.
Respectfully submitted,
Becky
Minutes from the Association Meeting – November 6, 2016