Ventura Neighborhood Association meeting 11/5/2017 – Topics – Fry's Redevelopment/NVCAP, Bike Safety,  Collective Impacts of New Development on Livability, 425 Portage, Emergency Prep & More
Concerns voiced regarding development, biking and walking, community building, child safety
ATT site: Jonathan – ATT has not made a decision on whether or not to sell the parcel next to Boulware Park
Emergency Preparedness:
Ken – There was a Radio Drill for the BPCs in October. He wants to have a gathering of BPCs and other emergency volunteers in the neighborhood. There will be an advanced BPC training offered by city in November: November 30th from 6:30  – 8:30 PM at Mitchell Park Community Center, Matadero Room.This class is for existing BPCs that wish to refresh, enhance and add BPC skills. Please RSVP directly to Annette_g@att.net.  In Houston, people had to take care of themselves and we can all learn from this.
Susan – Noted the N-95 masks that filter out particulates in a fire. Get some to put in your emergency kit.
Development in our neighborhood: Pearlin made a beautiful map with post-its indicating the new developments planned for our neighborhood, along with a document describing the current situation. Is concerned about the waivers granted by the city for developers who are encroaching on the property of private homes. The Mikes Bikes property is one. The people on Olive, too – their shade plane was not protected by the city. Waivers being given to developers to the detriment of private homeowners.
Palo Alto Housing Corp is building where the wedding dress shop currently is. They claim they have had neighborhood meetings lasting 40 hours with 20 neighbors. However, it's not clear who those neighbors were nor when the meetings were held. PAHC seems to believe that it's worth a try to get waivers on every development they create. It's great to support housing , but it's not right to change the rules on us to max out the build for that housing.
The council will listen to our objections if we all show up for meetings, etc – which is really difficult, especially for people with small children. We have to show up – people power.
Pearlin will continue to pay attention to upcoming development and keep us informed as much as she can..
Vam from Vam Market stopped by – he's having problems with the city regarding approval of his application to sell ice cream and clothing (etc?) at his shop on the corner of ECR and Margarita. He gave us a business plan, which Becky took and will review. Vam said he will send her a soft copy.
Becky will send us a document on How to Stay Informed. It will show us how to subscribe to newsletters, etc. that will inform as to goings on and allow us to check our preferences. Will add the How to Stay Informed document to the minutes of the meeting.
Incubater (Office space) at 4001 ECR is underparked, and is building out more offices than the sq. footage allows.
Comp Plan EIR – Stanford will be adding a 4000 units plus 3 million sq feet office space. This translates into more traffic, more congestion, more pressure on Palo Alto infrastructure, plus the schools.
In the works: Easing the prohibition on having roof decks on Univ. Ave bc of offices who want to entertain or use outdoors for events. Problematic for people who live downtown.
Parking and Traffic: Claire expressed about that northern area of Park – traffic, development, etc. She is also concerned about parking and increased traffic with all these developments planned.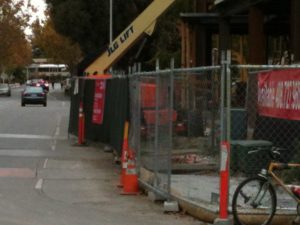 Jonathan agreed – There are construction signs right on the bike lane, weighted by sandbags. What are we supposed to do? The signs say "Bicyclists Use Caution" and they are right in the bike lane and force cyclists into traffic.
Ken suggests: use the 311 app. Choose a category – obstructing the roadway. If 10 of us put it in in a coordinated manner, they might pay attention.
Becky suggests: Write to the council Weds, Thurs or Friday will work best (avoid Mondays). Proof read it before sending. City.council@cityofpaloalto.com
Fry's site: Angela summarized two items regarding the Fry's site:
1. David Hirsch plans to make a presentation to the city council supporting his vision for the Fry's site. Angela asked for comments from the association regarding any presentation or comment we'd like to make about this. We agreed that Angela would express our pleasure that our voices would be heard on a Working Group regarding the Fry's site, and also explain that we are not ready to endorse or support any one vision for the site. Mr. Hirsch's presentation is premature. [Note from the council meeting: Mr. Hirsch decided not to present after all.]
2. Application for VTA funds – Having read the application document, Angela summarized it: It includes many of the elements that we have so far expressed support for: walkability, human scale; mixed use; transit connections, etc. It explicitly creates a working group comprised partly of neighborhood residents. It also suggests that the feasibility of "daylighting" the creek be studied. Claire said that Peter Jensen, the city landscape architect, mentioned to her that the creek could be considered for re-naturalization as part of this new development. Claire is willing to be our consultant regarding any creek re-naturalization, for which we all grateful. [Note from council meeting: the council agreed to continue the application for the money that has been promised to the city for creating a working group regarding the NVCAP. In addition, the council discussed enlarging the area of the NVCAP to include properties near El Camino and further south.]
Ken brought up a question regarding the stated "Exemption to CEQA" California Environmental Quality Act. What are the implications? Angela found the relevant quote from the document, which explains that CEQA is not required for this stage, since it is only the planning stage. CEQA will indeed come into play after the planning stage.
If you are interested in being on the Working Group, write to Hilary Gitelman at the City of Palo Alto (hilary.gitelman@cityofpaloalto.org). Go to office hours to meet city council members.
Ken will also express our pleasure at the creation of the working group, as well as his interest in being appointed to the group.
Becky indicated a concern with the high density allowance mentioned on p. 28 of the document. They may be including this just as a bargaining chip.
Maybe we should start planning some neighborhood coffee klatches to discuss NVCAP Fry's site. We are worthy partners in this venture.
Pet Food Depot – 425 Portage. Owner is asking for waiver on the retail preservation act so that they can have it just as a warehouse. Coupa Cafe warehouse people looked at it but rejected it. They could do something with it in two years. Why let them re-zone it? They may get the waiver and then build a parking lot and an office on it, as the next door neighbors have done. Let's ask that they deny the waiver. Becky will do some research to see if we can ask for a denial of re-zoning. And will craft some language for tomorrow night's meeting. Ken's suggestion: They should talk about that building in the context of NVCAP. Becky will include that in her comments. [Note after council meeting: the council narrowly agreed to let the owners keep it as a warehouse, but NOT to waive the retail preservation rule. This was opposed by Mayor Scharff and Mr. Fine. It was suggested by Mr. DuBois, because (correctly) he is concerned that losing retail preservation altogether would encourage office construction. Letting the site return to use as a warehouse is a fair compromise. Hooray! Good job, Becky!)
Claire is on a city Solid Waste Production committee: The City Party Pack – can be borrowed by anyone who is having a party. Contains plates, glasses, silverware. Just wash and return. Will be surveying neighborhoods about new way of dealing with solid waste. Will let us know more about that.
Ken: This year one person went through the BPC class. Will reach out to BPCs.
If you want to have coffee – city will be listening to what we have to say Nov 15 – On the Table Events
Gary is continuing to attend meetings regarding the railroad planning.
For next month:

December 3rd we will meet early at Becky's house

for a bite to eat and a meeting.
Be on the look out for an updated VNA flyer, plus a flyer to send to your friends inviting them to a New Members & New Neighbors tea prior to our potluck lunch for the December meeting.
Added by Becky
WAYS TO STAY INFORMED – a partial list – topic to be added more formally to our website… – this is not a to do list… the idea is pick the stuff you can do/like to be on top of, share what you learn and allow others to keep you informed about other topics…
http://www.cityofpaloalto.org/gov/agendas/default.asp – Read agenda and minutes for your favorite commissions and the Council
Subscribe to email alerts from the city – you can tailor your preferences:
https://public.govdelivery.com/accounts/CAPALO/subscriber/new?topic_id=CAPALO_26
Palo Alto Matters – independent newsletter – brainchild of Jen Hettersley
http://mailchi.mp/7518b2b0fad5/whats-so-sexy-about-code-enforcement-public-trust-251499
Subscribe to Building Eye Newsletter
https://paloalto.buildingeye.com/building
Listen to City Council Meeting Live – Stanford Radio
Watch City Council Meeting Live – Comcast Channel 26 or www.midpenmedia.org/watch (Choose 26)
Watch archived City Council once they are uploaded to youtube –
http://midpenmedia.org/category/government/city-of-palo-alto/city-council-committees/city-council/
Watch a host of archived commission meetings
http://midpenmedia.org/category/government/city-of-palo-alto/
Watch School Board Meetings Live and Archived
http://midpenmedia.org/category/government/pausd/
In attendance:
Claire Elliot and her mom Lynn
Jonathan
Bill Moss
Susan
Gary
Pearlin
Ken Joye
Becky, Moderator
Angela, Secretary
Rangu
Minutes – November 5, 2017